63rd Annual Meeting of the Florida Educational Research Association (FERA)
at The Hilton St. Petersburg Carillon Park in St Petersburg, FL
November 14-16, 2018
Join us for the 63rd annual meeting of the Florida Educational Research Association (FERA) in St. Petersburg at the Hilton St. Petersburg Carillon Park in St Petersburg, FL. The annual conference includes a professional development session for educational researchers, several concurrent presentation sessions on a wide variety of educational research topics, a graduate student poster session, receptions, coffee breaks, and the annual business meeting and awards luncheon. FERA is one of the oldest state-level educational research professional associations in the United States.  Meet university professors, K-12 district assessment and evaluation directors, educational administrators, state educational representatives, teachers, and graduate students from across the state of Florida.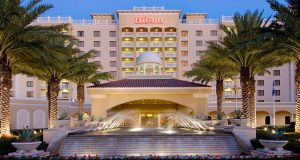 This year's annual conference will include many dynamic speakers and topics, including Dr. W. James Popham, former president of the American Educational Research Association (AERA). Dr. Popham is the author of more than 30 books, 200 journal articles, 50 research reports, and nearly 200 papers presented before research societies.  His presentation is titled Expanding Assessment Literacy: The Most Cost-Effective Way to Improve Our Schools. Additionally,  we will hear from Dr.  M. David Miller,  author of a leading assessment and measurement textbook, and former president of FERA. His presentation will focus on program evaluation and the role it plays in assessing the merit and worth of educational programs at local, state, and national levels.
Our professional development workshop will be facilitated by Dr. Katerina Marcoulides from the University of Florida. The focus of this workshop will be on educational data mining. The workshop is designed to provide attendees an introduction to methods used for data mining in educational research. The term data mining will be used to refer to the process of selecting, exploring, and modeling large data sets to uncover previously unknown patterns and relationships. Finally, we will have a special session this year focused on creating collaborations and partnerships between school districts and universities.